Outlook, which is extensively used by businesses and other corporate organizations, may develop problems over time that need patching and maintenance in order to work effectively. Outlook, like any other regularly used application, may have problems that must be handled or maintained in order for it to perform effectively.
It's not uncommon to desire to view earlier emails saved in an Outlook folder, such as the Inbox or Sent folder.
Another possibility is that your Outlook data file has not been indexed; in this case, make sure the search index is operational.
When you have hundreds of emails in your inbox, using the Outlook search function becomes second nature.
This article will guide you through the process of indexing and restoring search functionality for all your emails.
Why Can't I find all emails in Outlook?
The indexing function in Windows is one of the most common reasons Outlook cannot discover all emails.
Because all versions of Outlook share the Outlook Search Index, this is an issue that affects them all.
Similarly, the tactics outlined above should be effective in the following situations:
Modify the search scope if Outlook is failing to scan recent emails. Outlook does not examine freshly received emails.
Before attempting to discover recent emails in Outlook, ensure that the indexing process is complete. Then examine another option.
Additional solutions to this and other problems are presented further down.
Outlook users frequently report dissatisfaction with their inability to see emails in their Inbox. The problem might be technical, or it could be a configuration problem. Emails that have not yet been synced with the server may be confused with those that have. As a result, the following clarifies what I mean: Emails that have not yet been synced with your account are classified as "unsynced" due to intermittent internet access or server instability but will be as soon as connectivity is restored. Certain types of emails may be inaccessible if your internet connection is inadequate. To sync all your emails, either use Outlook's Send/Receive button at the top of the screen or check your internet connection and select Send/Receive All Folders.
Then we'll go through how to recover deleted emails. There are various options here, which we shall go through in-depth.
1. Change Advanced View Settings
Custom filter settings may help if you're having the same problem with emails vanishing from your Inbox. One of the most common causes of not receiving some emails is the implementation of a custom filter by you at some time in the past. As a result, the steps listed below can be used to make any necessary adjustments.
Select View Settings from the drop-down menu on the View tab.
Select the Filter option from the Advanced View Settings drop-down menu.
3. Select the Advanced tab from the drop-down menu in the Filter dialogue box.
4. Select the "Received today" option from the drop-down box and hit the Remove button to remove the item.
To see the Received Today option in the list, make sure that this filter has previously been set. Otherwise, it is very probable that your emails have gone missing for some other reason.
To complete your choices, simply press the OK button.
2. Re-add Your Account in Outlook
If the above option does not work, you could try this method instead.
In Outlook, re-enter the account details. To resolve a problem where your emails aren't getting delivered, you may simply remove the email account in Outlook and re-add it. Nothing else needs to be said. Get your account deactivated by following a few simple steps.
2.1. Removing Your Account
The File button is in the upper left corner of the Outlook screen.
Click on the Account Settings drop-down menu and pick Account settings from the list of options in the Info category.
3. Select the account that you wish to delete and then click on the Remove button to complete the process.
4. By selecting Yes, you are confirming that you want to delete the account.
2.2. Re-add your account
To access the Control Panel in Windows, go to the Start menu and select Control Panel.
In the Control Panel list, choose the option for "Mail" and double-click.
Select Email Accounts from the drop-down menu in the Mail Setup dialog box.
Select the New option in the Account Settings dialog box.
After you've made your selection in the Add Account dialog box (for example, Email Account), click the Next button.
At this stage, you may either enter your email account details or select the option to set up your account manually. Click on the Next button to continue.
We apologize for the inconvenience, but adding your account may take a few moments.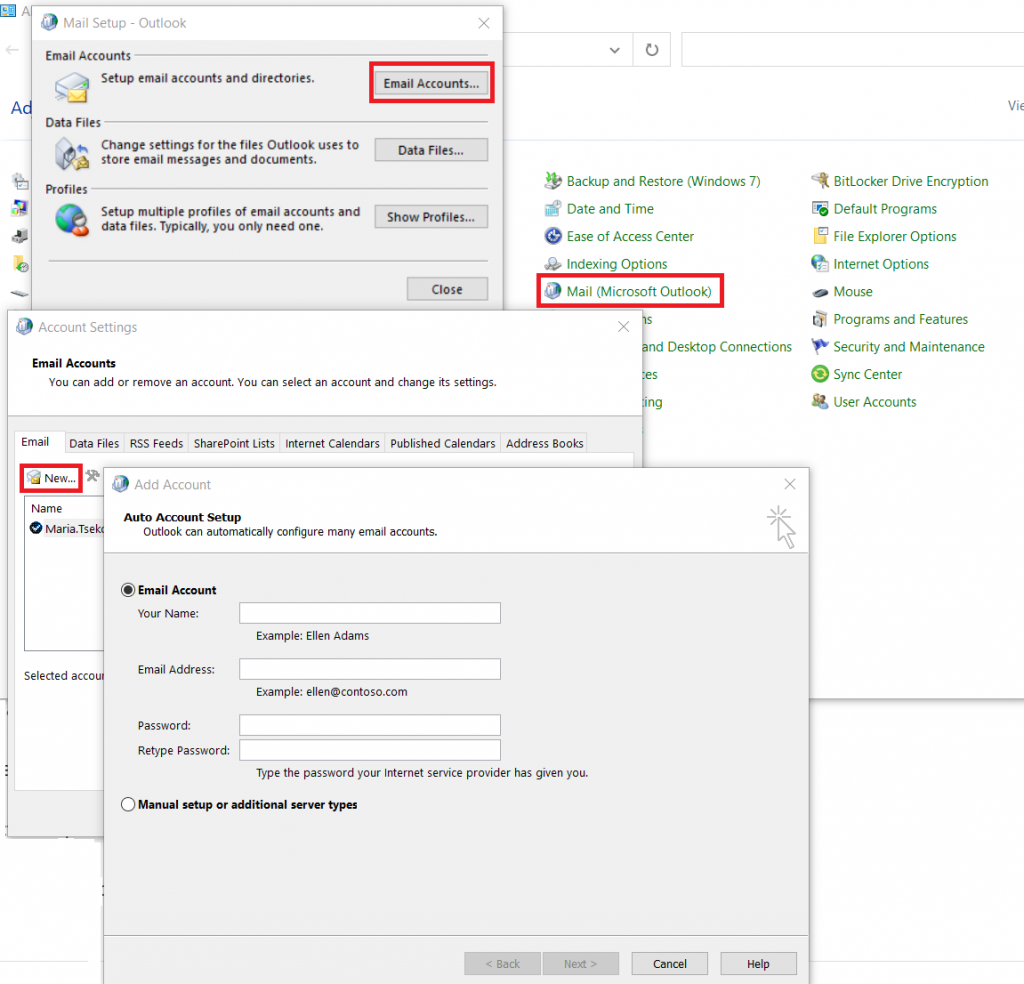 3. Repair PST File
You may quickly open File Explorer by pressing the Windows key and E on your keyboard.
Using the address bar on your browser, go to this PC and type scanpst. Hit Enter or click the blue search arrow to type in what you're looking for.
The application may be started by double-clicking the file.
There is now an entry for the PST file's name. When in doubt, simply click the "Browse" link. In the File Explorer software, type "*.PST" into the search field. The Users folder under Office might also be a source of information.
When you locate the file and press the "Start" button, the application will begin recovering your files.
For the best results, use the Inbox Repair Tool many times to fix your personal folder (.PST).
It is impossible for this tool to fix all the problems it uncovers. If the files have been damaged or are in such bad shape that they can't be fixed, it will occasionally be unable to find them.
Additionally, the best Outlook email recovery software must be used to quickly recover all your Outlook emails and save your time.
As the program's database, the .PST file serves as the most common source of problems with Outlook's search function.
To help you out right away, we've written a great guide on how to fix corrupted files on Windows 10. Unless scanpst.exe can handle the job, it's time to call in the big guns.
You may use Stellar Repair for Outlook to fix a damaged or corrupted.pst file. Every email you've ever sent or received will be reinstated after you've fixed your.pst file. To top it all off, we'll finish indexing.
In the future, you may expect correct results while searching for emails. Outlook's search should now work as expected.
Did any of these solutions help you with Outlook's inability to find all your email messages? Please use the comment box below to express your opinions.