Because Outlook does not show all your emails, this article explains why. We've also provided you with some easy-to-follow solutions.
Outlook frequently fails to display all emails when the Internet connection is poor or non-existent. As a result of this, you may not be able to access all your emails. This article outlines some of the potential reasons for the issue, as well as some potential solutions.
What's the problem with Outlook Inbox? Why, for example, do fresh emails not appear in previous versions of Outlook?
Old emails or all emails may not be problematic for Outlook users, although it is conceivable. It happens if the mailbox is too large or if the configuration is incorrect. You can reduce the size of a file by altering its settings or by deleting it from your inbox. Use ScanPST.EXE or a third-party program to rectify a broken or huge PST file.
However, we'd like to share the possible reasons to notice the problem.
In order to resolve this issue, users must first identify the underlying cause of the problem and then apply the appropriate remedies.
1. Dependencies in View Settings
If you can't view all of your emails, it's possible that Outlook's default View settings are at blame. Because of filters and sorting settings, certain emails may not show up in the default view. Resetting the View settings may help fix the problem. This may be done by following the steps provided in the next section.
Open Outlook
Open View Tab
Choose View Settings
Select Advanced View Settings window
Select Reset Current View
Select OK.
2. Misconfigured Cache Settings
You can download your emails from your live mailbox to your local machine if you are using an IMAP or MAPI email account. Outlook keeps emails for a period of one year on many computers.
In other words, only emails from the previous year are preserved on the local computer. If you want to look for emails that are more than a year old, you must alter the search parameters. To accomplish this, take these steps:
Select File > Account Settings from the menu bar.
Click Change in the Account Settings window that appears after you have selected your email account.
Pull the slider all the way to the right under Download emails from the past, and then click Next to finish the process.
To finish, click Done.
Outlook will then download all of the emails from your Exchange mailbox to your computer's hard disk.
3. Oversized PST File
A pre-configured restriction of 50 GB is applied to OST and PST files created in Outlook 2010 and later versions. If your Outlook data file is getting near or has reached this limit, you may experience issues receiving fresh email messages. As a result, you may have difficulties such as new emails not showing up in the Inbox in Outlook 2016 or similar issues in older Outlook versions.
You must minimize the size of the Outlook data file in order to remedy this problem. Follow these steps to accomplish this:
Delete any and all unneeded things from the Deleted Items folder.
Go to File > Account Settings and choose the Data Files option from the drop-down menu.
Select the mailbox file from the drop-down menu and then click Settings.
Select Compact Now from the drop-down menu, and then click OK.
You may also utilize the Mailbox Cleanup feature in Outlook to minimize the size of your files. To access this program, navigate to File > Tools > Mailbox Cleanup on your computer's desktop.
4. Corrupted PST
Outlook may fail to display all of your emails if the PST files are damaged, for example. However, the ScanPST.exe utility included with Outlook's integrated Inbox Repair function may swiftly repair the PST file.
ScanPST may be unable to repair a damaged or large PST file. In this instance, you may be able to recover your data using a sophisticated Outlook PST recovery application.
5. Internet problem
When people use Outlook, they need to have a stable and uninterrupted Internet connection in order to get their emails right away. Do you have trouble getting emails into your mailbox? Check to see if your Internet connection works before you do anything else. You should check your mailbox to see if there are any new emails after you have a secure connection again. Take a look at your internet connection to see if it is working properly and without problems. If this isn't the case, try to connect again and check the inbox folder for new emails.
6. Send/receive option
Outlook emails may become unsynchronized due to a sudden loss of power or network connectivity, conflicts with other programs, and so on. The Send/Receive tab in Microsoft Outlook may be found near the top of the main area of the interface. To send and receive unsynchronized emails across all your Outlook mailbox folders, select Send/Receive All Folders from the Send/Receive drop-down menu. Emails will take some time to update before being verified for reception by the Send/Receive function, which will not check for receipt until the procedure is complete.

7. Remove unwanted files in Outlook Mailbox
The most typical reason for this error is a shortage of space in your Outlook mailbox, but you may eliminate this possibility by cleaning your inbox and deleting any old or useless emails from your Outlook application. The Mailbox Cleanup tool may be found under the File tab>>Tools>>Mailbox Cleanup for clearing up your mailbox.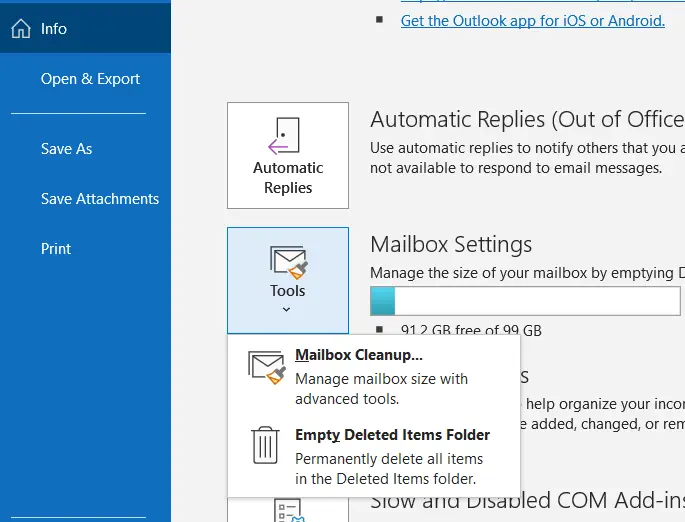 8. Re-add your Outlook account
It is possible for users to try this hit-and-miss technique, which consists of removing the Outlook account from Control Panel>Mail>Email Accounts and re-adding the new account from the same spot until the problem is cured. In order to retrieve the deleted emails, it may be required to restore the default settings.
9. Import Old Emails
The Export action in Outlook's Import/Export tool allows you to import old emails from a PST backup that already exists, or you may create a new PST backup and then use that one. Make a copy of your PST file and import it into your existing PST file using the same Import/Export option as before. You may be able to retrieve your lost emails at this point.