Gone are the days where the only way to open your front door is by coming to it and opening it with your hands. Now, with a tap of your finger from your smartphone, you can lock and unlock your front door remotely without any hassle.
Besides, the virtual keys can be the most selling point of the smart locks in your home. With these features, you can schedule when the keys will work and inform you if the keys are used. So, when you leave your home, you don't need to worry if your grandma comes. She can open the door with your virtual keys, without knowing the actual keys of your smart locks.

Smart locks have been a quickly trending item for many households. Most of the modern units come with a vast amount of features that support common smart home systems like Google Assistant, Alexa, Wink Hub, etc. There are some brands that you can easily find on the market. But picking the best unit for your home might be tricky. Save your time and look at our best list instead.
1. August Wi-Fi Smart Lock
There are too many positive reviews about this model so that it can be arguably the best option that you can pick right now from the market.

The latest August Smart lock is more compact and easier to operate. It does not feel bulky on your door. With the built-in Wi-Fi, you can directly link your smart lock to your home system.
August Wifi smart lock is easy to install and operate. It also comes with abundant helpful features like Door Sense, compatibility with various smart home systems.
2. August Smart Lock
I know it is another model from the same brand. But it is a different model. It works with the HomeKit, Alexa, Google Assistant, and more smart home systems. The good thing about this is the friendly price tag. You don't need to spend much to get such a smart lock in your house.

August Smart Lock allows you to fortify your door without replacing the physical key. There is no need to replace the cylinder either. You can secure your home along with the existing keys. With this feature, it can be a great choice for renters. When you move to another house, you can easily remove the lock and replace it with the old one.
The only downside of this model is that you cannot control it remotely. To activate this feature, you need to purchase the August Connect module first.
3. Schlage Encode
If you are looking for a smart lock with an alarm feature, you could go for Schlage Encode. Most smart locks come with some flaws, especially if someone tries to tamper with them. The Schlage Encode has a loud alarm that activates when someone tries to ruin it. Indeed, the loud alarm won't be a good thing for the burglars.

The security features include the key code and remote-controlled lock. The model has included the sophisticated tech you need to control your front door from distance. It also supports Amazon Key service which allows the official Amazon delivery guy to open the door to place your packages inside your house. This feature eases you in receiving the package without the risks of losing it.

It is recommended to install the security camera as well to maximize the Amazon Key feature. Common smart home systems like Alexa and Google Assistant can be integrated with it. But Apple users won't be satisfied since it does not come with Apple's Homekit integration.
4. Yale Real Living Assure SL
The lock-type deadbolt is as impressive as its design. The smart home compatibility includes Alexa, Google Home, Smart Things, and HomeKit. With these integration abilities, you can control your smart lock conveniently from your smartphone or tablet. Besides, you can also control it through a smart speaker like Google Nest Mini.

Assure SL design will impress you the most. It is also easy to install the lock. It comes with a key code that encourages you to use the app to open. However, this model does not come with a manual key option. If the battery of the lock runs out, you can support the system with 9v battery power by touching it. Or, you could use the contacts below the keypad. Not only comes with a great design, but it also offers a great set of features in a compact model.
5. Kwikset Halo
Kwikset Halo stays relevant in such a competitive industry because of its nice features that ease the users on a daily basis. Its intuitive app helps beginners to comprehend how the smart lock works effectively. The smart key system comes with easy key management.

You can use a keypad or smartphone to unlock and lock remotely. you can also use the plain old key to lock and unlock your front door. Kwikset Halo also comes with the rekeyable lock feature which gives you the freedom to change the lock key. Sometimes, you might share the keys with your landlord or friends for some reason. The rekeyable lock feature will help you have total control of your smart lock system.
6. Lockley Secure Plus
Lockley Secure Plus has a distinctive feature that you might not find in other common smart locks: fingerprint. That includes the manual lock as well. With this model, you can save time by using your finger to lock and unlock your door. All you need is one touch onto the fingerprint reader on the right side of the lock. You can also use the code to operate the door. While other keypads have the standard positions of numbers, this model's keypad will shift the numbers around, confusing the strangers to guess your codes. The lever lock in this model can also be a game-changer.

The only downside that we concern about is that it does not support smart home systems. You need a Wi-Fi adapter to make it available or upgrade to Lockley Secure Pro instead.
7. Nest AND Yale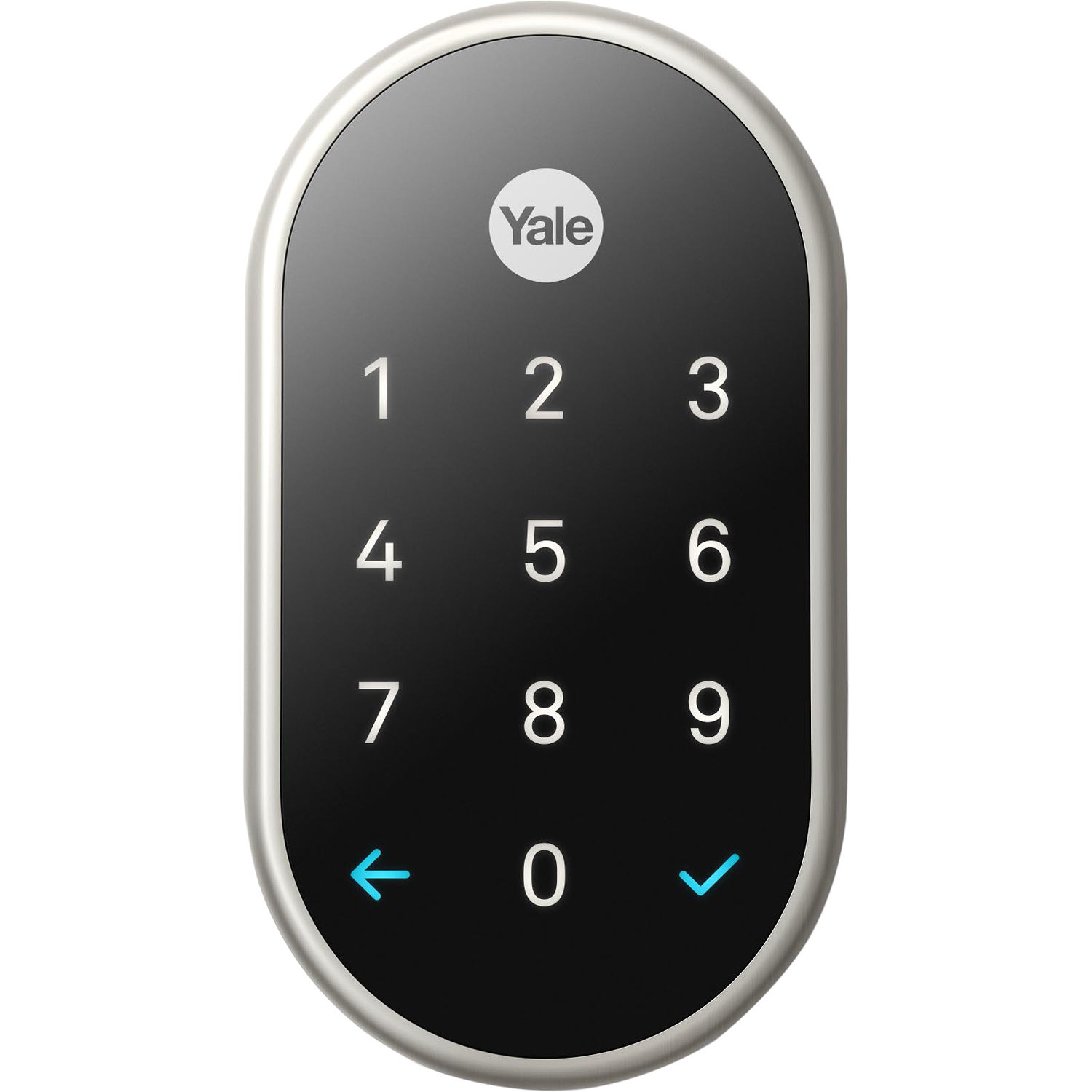 Next, X Yale is a top choice for Nest or Google smart home system users. All you need to do to lock your front door is just saying to your smart speaker "Google, lock the front door!". VOILA, your door will be locked by your command.
It works well with Google Assistant. So, don't think twice to get it if you are an avid Google product user. It is a touchpad-designed model. There is no manual key if you're looking for it.