Microsoft encourages its users to always update the system in order to remove bugs and errors, as well as improve the performance of the system.
New features are always available for users. The good thing here is that all Windows 10 users will get the updates for free, forever, or until Windows stops the service like they do in the older versions of the Windows OS.
However, in this post, we will show you how to stop the update notifications for Windows 10.

Stop Windows 10 Update notifications:
To prevent the notifications from showing up, you could disable Windows 10 update notifications.
You are going to use the Action Center to set the notifications app. Chance the action center settings using the Settings App.
1. Click Start, then select Settings.


2. Choose Systems, then Notifications & Actions.
3. Choose quick actions and find the Action Center.
4. Turn the notifications off.
5. Turn off the tips, tricks, and suggestions about Windows.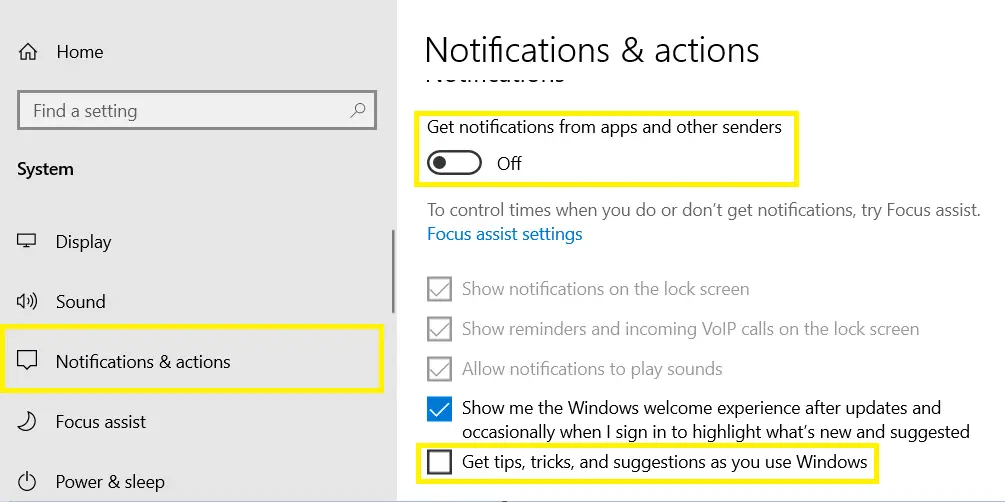 Have a nice try!
Automatic Updates
Nowadays, users won't need to double-check their system's latest version since Windows 10 comes with the Automatic Updates feature.
This feature allows the device to update the system automatically without commands from the users. As usual, the updates will run in the background.
After finishing downloading, the installation will also run in the background. But for some updates, will be done when the users shut down their computers.
You might have experienced it. As you try to shut down your computer, the system forces you to update Windows 10.
The problem is rising.
The problem arises when you want to shut down Windows 10 and the official forces you not to plug out the power or force shut down until the updates are finished. The automatic update could take up the system and network resources. For some users, it is a big problem. If this describes your problem, then you will want to know how to disable the update notifications. Here is how you could do it.
The options in the update notification
The automatic update notification will give you some options like these:
Install Updates automatically
Download updates but choose when to install them.
Check for updates but let me choose whether to download and install them.
You could choose either the no.2 or no.3 option. In the no.2 option, you can choose to install the updates anytime you want.
Meanwhile, the no.3 option gives you the freedom to download or not download the updates.